Summer of Sharing Donation Helps Local Robotics Team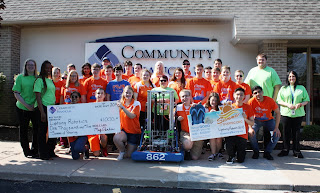 The Lightning Robotics team poses with
Community Financial team members.
Community Financial's 9th annual Summer of Sharing campaign is under way and thousands of dollars have already been donated to local charitable organizations throughout Michigan!
Running through August 30th, Community Financial will donate $60,000 to organizations that make your community better. Recipients are chosen based on nominations submitted at
SummerofSharing.org
, where we ask you to consider, "What GOOD could you do with $1,000?"
One of the 2019 recipients, the Lightning Robotics team from Plymouth-Canton Community Schools, shared with us the various ways they might put their $1,000 Summer of Sharing donation to good use. These included: helping students pay dues and travel costs, purchasing robot parts, and investing in better tools and equipment to teach students.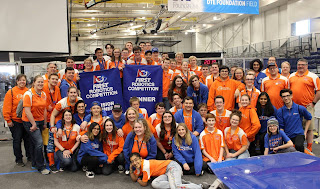 Lightning Robotics team, Plymouth-Canton
Community Schools.
Lightning Robotics, FRC Team 862, was founded in 1999 by Plymouth-Canton teacher, Jay Obsniuk. Back then, they only had 7 students and 3 mentors, but have since grown to 144 students and 44 mentors. The team is student-led, with 19 student leadership positions.
Students learn STEM and business concepts that can be applied to real-world professional settings. They also host numerous events for children of all ages to get them interested in STEM and robotics. Students that participate in the program learn about teamwork, leadership, and giving back to their community.
"The mentors and student leaders of Lightning Robotics taught me how to work productively as part of a larger group, and how to speak up so that my contributions would be heard," said alumni and mentor to the program, Ryan Todd.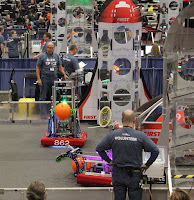 The team's robot competing
at a competition.
"To top it all off, they went on to teach me how to effectively lead that group to reach more ambitious goals with every passing year. I now lead a team of software engineers in the automotive industry, and I spend much of my free time 'paying it forward' by mentoring the next generation of Lightning Robotics team members."
To learn more about Lightning Robotics please visit
lightningrobotics.com
.
You are also invited to visit
SummerOfSharing.org
to learn more about how you can share your story and nominate a charity, community group, or school program that deserves a $1,000 donation. Don't miss out on this opportunity to make a difference in your community this summer!
« Return to "Money Matter$ Blog"
Go to main navigation