School Spotlight: Connecting and Interacting During the Summer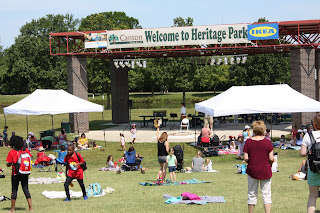 Community Financial is a proud sponsor of "Tuesdays are Terrific"
at Heritage Park in Canton this summer.
Just one of our many summer sponsorships!
Community Financial's Student-Run Credit Union program continues to offer financial education in the summer months. Partnerships with YMCAs, parks and recreation programs, summer camps, and libraries provide endless summer fun and engagement for Education Partnership Coordinators and other Community Financial staff.
YMCA "Character Cash" Deposit Days
YMCA summer camp students earn "character cash" for helping others, being kind, and doing "the right thing" during camp. Students can then purchase different prizes with their character cash throughout their summer camp experience.
Instead of making students keep track of their character cash on their own (and potentially losing some along the way), the Student-Run Credit Union program offers "Character Cash Deposit Days." Bringing the credit union experience to our YMCA campers helps them to keep track of their character cash while learning how to save through a financial institution. Campers also can help coordinate deposit days. After going through the interviewing process, select campers are "hired" for their best-fit job. All campers learn the importance of saving, and are hopefully able to save enough character cash to get one of the bigger prizes offered at camp!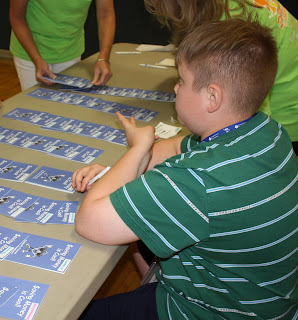 A YMCA camp volunteer helps fellow campers
find their character cash logbook.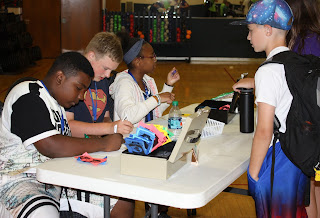 Look at all of that character cash!
YMCA campers
have great mindsets and are excellent savers!
Summer Sponsored Events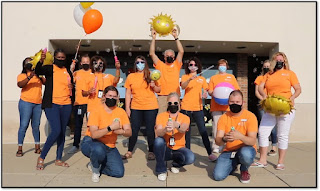 Community Financial staff celebrating another
great year of Summer of Sharing!
Look for Education Partnership Coordinators, as well as other Community Financial staff, at different community events throughout the summer. If you would like more information about our summer community involvement and sponsorships, please reach out to us at communitysupport@cfcu.org. You can also check out our Summer of Sharing website at
www.summerofsharing.org
for more information about our summer grants and how to get involved.
Your Turn: What is your favorite Community Financial sponsored event in the summer? Share your favorites with us in the comments!
« Return to "Money Matter$ Blog"
Go to main navigation