REFINANCE
Want to lower your monthly payment? With interest rates historically low, now is a great time to consider refinancing your home. Community Financial's team of local, experienced mortgage experts can help walk you through the process.
Refinance Current Mortgage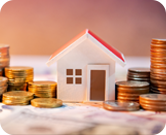 Lengthen or shorten term from 30 to 5 years.
Roll in closing costs.
Debt Consolidation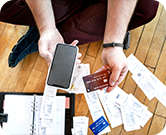 Ideal if you want to cash out some of your home equity for bills, debt, or home improvements.
Lower monthly payments.
Great home equity loans too!
Mortgage- Refinance
Effective Date: 02/01/2023
Mortgage Rate
Mortgage APR*
Points
30 Year Fixed Rate
6.125%
6.204%
0
5.750%
5.874%
.75
15 Year Fixed Rate
5.125%
5.247%
0.0
4.875%
5.110%
.75
7 Year ARM
5.500%
6.500%
0

*APR=Annual Percentage Rate.

The information provided assumes the purpose of the loan is to purchase an existing single family detached home and will be used as a primary residence. 7 Year ARM rates and payments may increase or decrease after consummation due to market-driven changes to the index. ARM rate and payment adjustments are based on the 1 Year CMT plus 2.75% margin. The interest rate can increase or decrease up to 2% the first adjustment period and 2% per adjustment period after that, with a lifetime cap of 6%.

If an escrow account is required or requested, the actual monthly payment will also include amounts for real estate taxes and homeowner's insurance premiums. Programs, rates, terms and conditions are subject to change without notice. Rate may vary depending on individual credit history, amount of down payment and underwriting factors.
Refinance Calculator
How long will it take to break even on a mortgage refinance? The mortgage refinance calculator helps determine if refinancing your mortgage is a sound financial decision.

Go to main navigation