Destroy Confidential Documents at Shred Day- September 21st!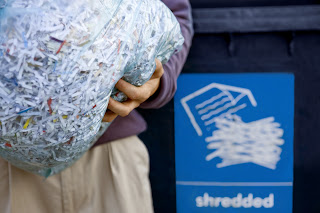 Your valuable personal information is often buried throughout your paperwork and mail, leaving you and your finances vulnerable. One search through your mailbox or trash could garner enough evidence for a thief to take control of your identity — and your finances.
Thieves can use credit cards, financial statements, or utility bills to obtain and exploit your personal information. That's why it's important to take actions to prevent theft of this kind from happening in the first place. Your first line of defense is to destroy documents containing your personal information before anyone can access it. Private documents and credit/debit cards, which contain sensitive information, should be destroyed as soon as you no longer need them.
Join Us for Community Financial's Shred Day!
If you are looking for a way to securely shred and destroy your old documents, bring them to our
Shred Day event
this September! We will have trucks on site to securely shred documents at 3 of our branch locations:
When: Saturday, September 21st from 2:00– 4:30 p.m.
Where: Canton Branch - 6355 N. Canton Center Road
Westland Branch - 7420 N. Wayne Road
Gaylord Branch- 1360 W. Main Street
Shredding is an excellent way to destroy your documents to ensure the safety of your sensitive information and finances. As a general rule, it's better to have as few physical documents on file as possible. Switching to online banking and opting-out of paper statements can also help keep your financial information more secure.
Hosting Shred Day is just one way we try to help our communities! If you have questions about our Shred Day event please call us at
(877) 937-2328
.
« Return to "Money Matter$ Blog"
Go to main navigation