School Spotlight: Starkweather Academy Students Prepare for their Future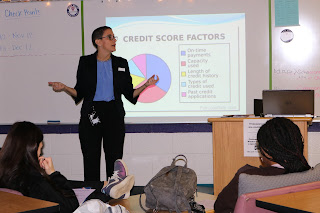 Coordinator Kristen L. shares her
knowledge about credit and credit scores
with a class at Starkweather.
Students at Starkweather Academy are preparing for life outside of the classroom. Starkweather Academy provides an alternative/adult education program within the Plymouth-Canton Community School District. Students at Starkweather have the opportunity to complete their high school education with smaller class sizes, acquire "English as a Second Language" help if needed, or get support in preparing for the GED exam.
In addition to Starkweather's focused curriculum, Community Financial offers many financial education presentations to help students with their finances. Education Partnership Coordinator, Kristen L., is frequently at Starkweather Academy preparing students for their financial future. She leads engaging presentations on budgeting skills, credit, investing, car buying, fraud, and interviewing skills. She also conducts "Food and Finance" trivia, where students answer financial education questions during their lunch for prizes.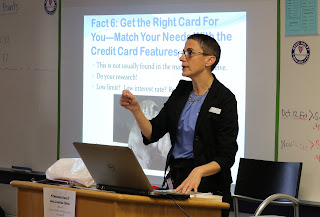 After discussing credit cards and how interest
works, Kristen shows the students the
perils of credit card debt.
"Next-Level" Interview Help
One presentation, in particular, conducted by Kristen L. at Starkweather helps students with their future employment endeavors. At the high-school level, students need to prepare for a "next-level" interview. These are interviews for internships, post-graduation jobs, etc. Interviewers in "next-level" interviews ask more in-depth questions, providing the perfect opportunity to offer a little extra help. Students need to be prepared to answer situational, competency, and behavioral-type interview questions, and to navigate their nervousness in the moment as well. After a presentation of "tips and tricks" for interviewing, students are engaged in mock interviews with Community Financial staff. Students leave their mock interviews better prepared for what a "next-level" interview is like!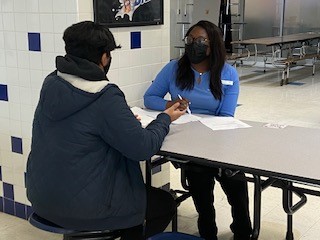 Community Financial team members help with
interviews at Starkweather, along with other
high schools in the Plymouth-Canton district.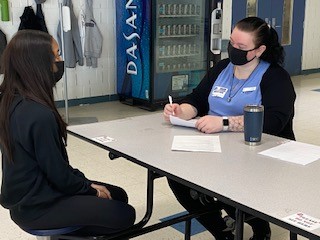 The experience these students get from their
mock interview is invaluable for their
future success.
If you would like more information on our high school presentations and/or school partnership offerings, please contact Assistant Manager/Community Relations, Mary Kerwin at mkerwin@cfcu.org.
Your Turn: What advice would you give to high school students about their finances? Share your advice in the comments!
« Return to "Money Matter$ Blog"
Go to main navigation