Preparing for an Interview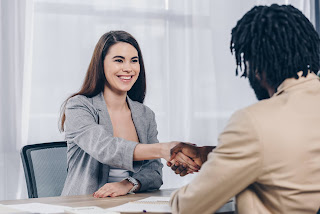 You've fired off your resume to a potential workplace, and they've contacted you to set up an interview. You're super-excited to prove yourself, but also super-nervous. What if you mess up and jeopardize your chance at landing the job? What happens if you get tongue-tied and can't answer the interviewer's questions?
There's no need to panic; Community Financial is here to help! Here's how to prepare for an interview that will have you presenting yourself as polished, professional and capable to any potential employer.
Before you step through that door, you'll want to learn all you can about your potential new workplace. Speak to current employees and study the organization's website to get a sense of the company culture, goals and services. You can look up company reviews on sites like Glassdoor and Vault to see what it's like to work for this business.
Highlight What You Can Bring to the Company
At this point, your interviewer doesn't care much about your personal salary needs. All they want to know is what you can bring to the table. Prepare a mental list of your strengths and talents and explain how you can use them to help the company grow. At the same time, avoid talking about salary and days off during your first meeting. If you land the position, there will be plenty of time to talk about that later.
Anticipate and Rehearse for Challenging Questions
Spend some time researching common interview questions and prepare your answers. Indeed.com compiled a list of 125 Common Interview Questions with tips for answering here:
Top Interview Questions and Answers (Indeed)
. If possible, grab a friend and role-play these questions in advance. This exercise can go far in reducing your anxiety at the interview.
You want to show up looking sharp and focused. The best way to achieve this is to get a good night's sleep before the interview and eat a nutritious breakfast. You'll also want to prepare your interview clothing the night before, taking care to present yourself as neat, professional, and polished. Appearances matter, so make sure to dress for the job you want. Check for stains, snags, wrinkles, and wear something you feel confident in. Researching the company's dress code can also show care and initiative.
You may be quaking inside, but it's crucial that you put on a show and appear confident for the interview. Shake the interviewer's hand at the beginning and end of the interview. Sit up straight in your chair, look your interviewer in the eye and speak in a clear, confident tone. Here, too, you may want to practice a bit to get this right. Some people may find it easier to act confidently by using psychological tricks such as imagining you already have the job or that the interviewer is actually a family member or friend, therefore taking away some of the pressure.
Don't get stuck in the muck when you reach the end of the interview and are asked "do you have any questions for me?" Many companies and interviewers have expressed that when interviewees don't have a question to ask, it makes even the best candidates seem ill-prepared. Just like practicing challenging interview questions, be sure to come up with a list of questions you could ask. Many of your questions may be answered throughout the interview itself, such as "what is the salary" or "who will I be working most closely with?" But atypical questions such as "what is it about this company that makes you stay," "what advice do you have to make my transition into this position smooth," or "what's one thing you wish you knew when you started this job," can make you stand out from the crowd.
After the interview, always be sure to follow up with a brief email to the interviewer. Thank them for their time, let them know what a pleasure it was to meet them and reiterate any important points from your conversation. This shows your interest in the position and leaves the interviewer with a positive impression of your personality and people skills.
Your Turn:
Have you recently landed a job? Share your best interview tips in the comments.
« Return to "Money Matter$ Blog"
Go to main navigation