CREDIT CARDS FOR YOUNG ADULTS
Community Financial is committed to helping young members build good credit and have the tools they need to live life to the fullest.
Platinum Rewards Mastercard®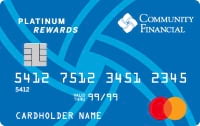 Earn 1 point per dollar spent on every purchase
No annual fees
Choice Rewards: redeem for statement credit, travel, gift cards, and more
Fixed rates as low as 10.99% APR*
Platinum Mastercard®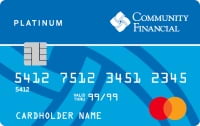 No annual fees
Fixed rates as low as 8.99% APR*
Secured Mastercard®
We offer our Platinum and Platinum Rewards Mastercard as a secured credit card. If you have bad or no credit, you can "pledge" savings to match your credit limit.
Rates as low as 8.99% APR and no higher than 18% APR.**
A way to establish a good payment history
A way to build savings habits
GPA loan program: No credit? You may be able to use your GPA to get a lower interest rate on your card
* Mastercard Rate Disclosure Mastercard Cardholder Agreement
**Actual rate may vary and depends upon the Mastercard product selected.
Go to main navigation